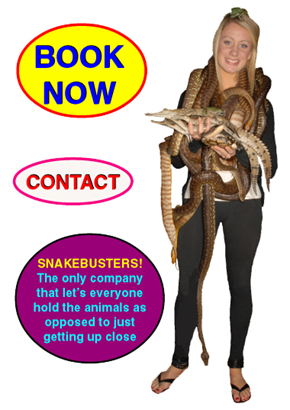 Welcome to reptile displays in Melbourne.
Call: (03) 9812 3322 to book!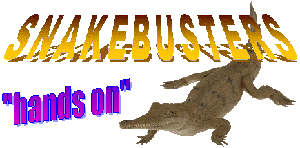 The best known people for reptile displays in Melbourne and educational reptile displays in Victoria are Snakebusters.
We do displays and shows for events, kids parties, schools and more.
Reptile displays with Snakebusters are the only ones with "hands on reptiles" and the only legal deadly snake display in Melbourne where it is legal for the handler to hold and handle the snakes.
Beware of inexperienced imitators who may put themselves or you and your students at risk by breaking the law by attempting to handle venomous snakes that are not vet certified as surgically devenomized and microchipped appropriately in accordance with State regulations and the OH and S Act.
Snakebusters are the only company with expert staff who can give your birthday party, children's party, adult's reptile party an exciting hands on event, which also brings you an Australian deadly snake display at your place and in complete safety. We also have everything else you'd expect from a government licenced snake handler and reptile displayer, such as frogs, turtles, crocodiles and more!
Reptile displays, reptile party bookings, inquiries, etc, please phone Melbourne, Victoria
(03) 9812-3322
or
0412-777-211
See the the main website at:
http://www.snakebusters.com.au
Reptile displays Melbourne Victoria. Copyright Snakebusters reptile displays and shows Melbourne. All rights reserved.  Snakebusters is one of a number of trademarks including for reptile shows Melbourne, and Educational reptile displays, Melbourne and Melbourne displays and:
| | | | | | | | | | | | | | | | | | | | | | | | | | | | | | | | | | | | | | | | |